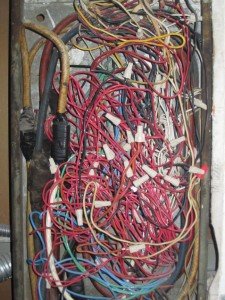 It never ceases to amaze us what we run into in on almost daily basis. We as licensed electricians would never attempt open heart surgery on one of our customers. Why would a reasonable person let unqualified personnel handle something as serious as electrical service in their home? The image above is what we found inside a wall in a high rise in Philadelphia.
This wiring mess was covered over with plywood.
The images below are two examples of code violations that could lead to electrical problems.
The image on the left is a loose splice we found above a ceiling causing power outage.
The image on the right was a panel with double tapped breakers and the grounding bundled together. These are two conditions that can cause overheating in a panel.
Knowledge of the electrical codes is extremely important when it comes to properly providing electrical installations in a home. For Example:
Where do you need GFCI protection?
Where and what type of smoke detectors to install?
How many circuits should be provided for a kitchen?
Is the electrical service properly sized and grounded?
These are but a few questions that if the installer is not up to the latest electrical codes could prove very costly or unsafe to a homeowner. Contact your licensed Electrical Contractor Lauterborn Electric for all of your electrical needs.